ما، زنان آزاده، از انقلاب زنانه‌ در ایران علیه جمهوری اسلامی و برای زن، زندگی، آزادی امروز در کلن اعتراض برهنه‌ داشتیم. بدن مان فولاد آبدیده شده علیه بیش از ۴۰ سال ضرب و شتم، تجاوز، سنگسار، شکنجه، اعدام، اسید پاشی، تبعیض، لکد مال شدن و خشونت است
بدنمان اسلحه مان است برای رهایی و برابری.
زنان آزاده، از انقلاب زنان ایران دفاع کنید.
We, free women, are holding a topless protest today in Cologne for Iran's women's revolution against the Islamic regime and for women, life, freedom. Our bodies are valyrian steel against more than 40 years rape, stoning, execution, acid-attacks, discrimination and violence.
Our bodies are our weapons for liberation and equality.
Free women, defend Iran's women's revolution.
مصاحبه من با دویچه وله فارسی در مورد اعتراض برهنه زنان ایرانی جلوی مسجد اصصلی کلن که امروز اذعان پخش کرد. این همان اذعانی است که ۴۳ سال باهاش جمهوری اسلامی اعدام و شکنجه و تجاوز کرده.
Maryam Namazie's interview with DW-Persian about our topless protest in front of the main mosque of Cologne which was for first time broadcasting azaan or call to prayer. This is the same azaan that the Islamic regime in Iran has executed and tortured and raped with.
#MahsaAmini #مهسا_امینی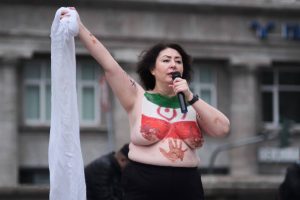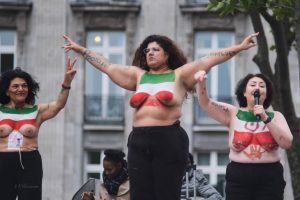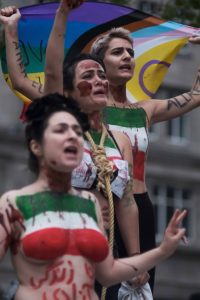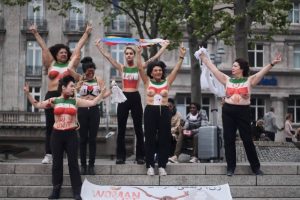 #MahsaAmini
#womansrevolution
#IranProtests2022
#IranRevolution2022
#NationalStrike
#OpIran
#WomanLifeFreedom
#ایران
#مهسا_امینی
#انقلاب_زنانه
#اعتصابات_سراسری
#زن_زندگی_آزادی