Please sign a petition to help save the two women.
Protesters in Cologne, Germany, were met with aggressive heckling by a group of young Muslims on September 10. A video posted by Maryam Namazie, a London-based Iranian writer and activist, showed the counter-protesters shouting "Allahu Akbar."
Namazie and her groups protested against Iran, sentencing LGBTQ activists Zahra Sedighi-Hamadani and Elham Chobdar to death.
According to Iran's Urmia Revolutionary Court, the two were charged with "Corruption on Earth." They were found guilty of promoting homosexuality which caused outrage in the international LGBTQ and human rights organizations.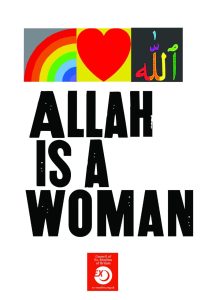 In an interview with the Atheist Republic News Team, Namazie said she was about to give a speech when the incident happened. "I was holding an Allah is a Woman sign," she said. It was just one of the signs that the protesters were holding.
She explained that most of the signs in the protests were in support of Zahra and Elham.
"They saw the sign, and that's when they started shouting Allahu Akbar," Namazie explained. The protest was held in the Domplatte, the square surrounding the Cologne Cathedral. The protesters know that there are a lot of tourists and locals passers-by, Namazie said.
"We tried explaining what the protest is about, but they were more offended about the sign than about the lives that will be lost," she said.
"Here are two people whose lives will be lost, and we are doing our best to save them, but they are more outraged at the sign instead of the blatant human rights abuse and oppression of the LGBTQ," Namazie said.
Police had to be called after one of the protesters was hit by the hecklers.
According to Namazie, she and her team are doing their best to help the activists in Iran. "We need everyone to step-up in their defense until we can have their freedom," she said. They are doing their best to bring attention to this case and are working with other human rights and LGBTQ organizations to appeal Iran's ruling.
Other human rights organizations quickly moved to Zahra and Elham's defense.
6Rang, a German-based Iranian LGBTI rights group, slammed Iran's ruling, calling it "unfair and unclear." Shadi Amin, the group's coordinator, said they are pressuring the German government to intervene.
"This is the first time that a woman has been sentenced to death in Iran for her sexual orientation," Amin said.