The International Coalition of Ex-Muslims has issued three statements on Zara Kay's case, which can be found here. However, given the apparent need for additional clarification, please find the following for those with a genuine interest in the case:
1. On Zara's initial Tweet that her police custody was related to blasphemy: On 28 December, a family member called Zara and told her to come into the Dar es-Salaam Oysterbay Police Station about her posts. After that call, Zara Tweeted that she was "going into the police station because someone reported me in for blasphemy." Since she had recently posted the following 'blasphemous' Tweets, and because of the threats around the issue of blasphemy that is customary for ex-Muslims, it is reasonable that she believed that she was being asked to report to the station for that purpose.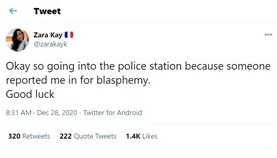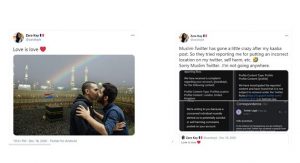 2. On her arrest being politically-motivated: What happened at the police station whilst Zara was in custody for 32 hours without a phone, subsequent searches and her daily reporting to the station on every single working week day cannot be disclosed but can be left to the reader's imagination. What can be said is that the lack of clarity on charges and its changing nature gave us an indication that the arrest and charges are politically motivated. Subsequently, we have received an extremely credible report of disturbing plans against Zara which were to begin with her arrest. The plans were made by high profile members of the Khoja Shia Ithnasheri community which Zara belonged to in order to attempt to silence her because of her apostasy and blasphemy. Based on that report and subsequent events, we continue to be extremely concerned about Zara's safety and well-being.
3. On the charges against her: It needs to be reiterated that Zara hasn't committed any crimes so the idea that she should be jailed or continue to report to the police and be prevented from leaving the country is ludicrous. You can read more information on the trumped-up charges here, however, none are credible. As was made clear, the initial light satirical posts on the president's handling of Covid-19 were made in May whilst she was living in London. The SIM card was in fact registered but in a family member's name. We know that SIM card charges have been used to persecute other high profile cases like that of a popular comedian. Finally, on the question of citizenship status which appears now to be the focus of the police investigation per the police chief's statement to the press, she entered Tanzania with her Australian passport and hasn't used her Tanzanian passport ever since she became an Australian citizen. It was misplaced, which is why she never handed it in. It's important to also note that her old Tanzanian passport was no longer valid since January last year because of a roll out of new electronic passports. Anyway, this would require a small fine to report it as lost and be a citizenship revocation matter — not one that requires continued investigation and harassment.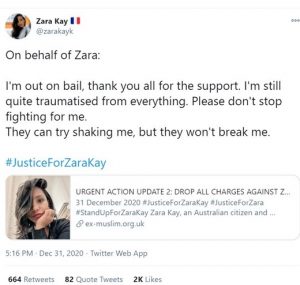 4. On the issue of bail: The International Coalition of Ex-Muslims' 1st statement dated 30 December only mentioned that Zara had been in police custody for 32 hours. It did not mention that she had been bailed. The reason for this was because it was related to events that took place at the police station which we were not permitted to raise. Soon after, on her lawyer's approval, we were able to confirm that she had been released on bail and we did so in our 2nd statement dated 31 December. Zara also Tweeted that she was out on bail on 31 December. Clearly, whilst Zara is on bail, she can eat cheesecake and undertake any other activity that will help keep her spirits up at this extremely stressful time – particularly since she must continue to report to the police station every working day, is not free to leave the country and remains at serious risk.
5. On the hashtag #FreeZaraKay: Initially, when we found out that Zara had been summoned to the police station on 28th December and had no word from her, we used the hashtag #ReleaseZara or #FreeZara. When she was released, we continued using the hashtag because even though she was technically out of police custody, she is still not free to leave the country, her passport and devices have been confiscated, she is out only on bail and has to report to the police station every single working week day. Other hashtags we have been mainly using: #JusticeForZaraKay #JusticeForZara #StandUpForZaraKay.
6. On privacy issues: The fact that Zara's private details should not be on social media is not "proof" that she isn't innocent. Innocent people also make privacy claims, particularly those like Zara who are at great risk. Doxing or publishing private or identifying information about her on the internet, with malicious intent, is simply unethical and puts her at further risk.
7. On human rights: The idea that some of us are focusing on Zara's case in order to make her or the ex-Muslim movement "famous" is beyond absurd. The Tanzanian authorities are known to place human rights activists under scrutiny. Given their own experiences, many of these activists have shown immense support for Zara's case as have many others. For those who think otherwise, suffice it to say that human rights are not just for your friends, those you like and those whom you think are worthy. It is for everyone, regardless of how you may feel about them. This includes Zara Kay.
We continue to urge the public to call on the Tanzanian authorities to drop all charges against Zara Kay, for her confiscated Australian passport to be returned to her and that she be allowed to leave Tanzania and return to Australia. We also ask that the public call on the Australian authorities to get Zara home safely and without delay.
Ali Malik
Halima Salat
Harris Sultan
Jimmy Bangash
Maryam Namazie
Mimzy Vidz
Nicholas Forbes