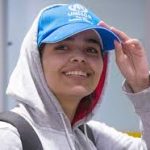 Rahaf al-Qunun's brave fight for protection from persecution ended happily with the Saudi teen's arrival in Canada. The ex-Muslim who was fleeing her abusive family barricaded herself in her hotel room in Thailand and managed to reach safety despite her family and Saudi government's attempts to return her to Saudi Arabia. Rahaf's plight mobilised widespread support with countless groups and individuals demanding action by the Thai government and the UNHCR and cheering her on to safety.
Unfortunately, Rahaf's plight is a reality for countless ex-Muslims, atheists, women and LGBT fleeing Sharia or "honour"-related violence condoned by Islamic states and movements. In more than ten countries, being ex-Muslim, atheist, or LGBT are even punishable by death. In these countries, being a free woman is a crime. Despite these harsh realities, countless asylum seekers in Britain and the west as well as refugee claimants in places like Turkey continue to be detained, refused protection despite evidence of persecution, mistreated and deported.
Council of Ex-Muslims of Britain (CEMB) calls on governments and the UNHCR to protect ex-Muslims, atheists, women and LGBT fleeing sharia, "honour-related" violence and Islamic states and movements.
Like Rahaf, they are refugees too.
UK ACTIVIST CASE SUMMARIES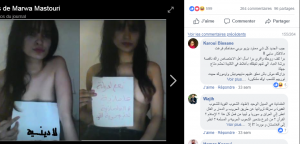 Marwa Mastouri is a Tunisian ex-Muslim woman who has received threats from her family and death and rape threats for her topless actions in support of those who do not believe in Islam, against hijab day and in solidarity with those who want to eat during Ramadan. She has written a book critical of Islam.  Moreover, she has defended LGBT rights and recently carried out a topless action in support of Saudi women. Marwa is waiting for an interview with the Home Office.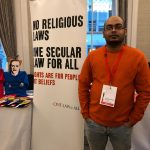 Shawon Syed Isteak Hossain is a Bangladeshi ex-Muslim and Gay man. He has been waiting nearly two years for an interview with the Home Office. Shawon is an editor of a magazine called "Boys Love World". He was also appointed as sub-Editor of a magazine "Atheist In Bangladesh". He continues to receive serious threats to his life. In Bangladesh, seven cases have been filed against him and his team for their criticism of religion and Islam. Islamist mobs have attacked and destroyed his home there and threatened his mother who is in hiding. His brother and father have already been murdered by the Islamists. Shawon has health issues and is currently homeless here in the UK. Shawon is a long-time activist who marched with CEMB at Pride and spoke at an event co-sponsored with Pride Festival on LGBT Rights, Blasphemy and Apostasy.

Mohamed Aly is an Egyptian ex-Muslim atheist. He left his country because he had been threatened with having his beliefs exposed to the public. He applied in the UK for asylum in April 2016 and has been refused on a number of occasions. Although the Home Office accepted that he was a genuine Ex-Muslim atheist, they advised him to return to Egypt and "live discreetly" as an atheist. The Home Office claimed that there is ''no policy of persecution in Egypt against Ex-Muslims atheists'', it is merely ''discrimination''. Mohamed is a long-time activist of CEMB involved in fast-defying actions during Ramadan and also marching at Pride in London amongst other actions and protests.
Aftab Ahmed is an ex-Muslim from Pakistan who applied for asylum in August 2015, been refused a number of times and is submitting a fresh claim. His father was killed by the Taliban and he was threatened by them; he continues to receive threats due to his activities with CEMB. In his refusal letter, the Home Office asserted that since the Taliban was a non-state actor, "the authorities are able to provide protection." On his being agnostic and unable to return to Pakistan, the Home Office has said he "would be able to live as someone who does not follow Islam. As [he has] not converted to another religion, [he] would not be required to talk to anyone about [his] religion." Aftab is a key CEMB activist involved in organising and participating in our protests and actions, including fast-defying and against blasphemy laws at the Pakistani embassy, defending LGBT rights at Pride and opposing compulsory veiling.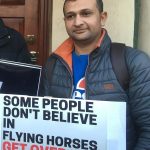 Fasahat Hasan Rizvi is a Pakistani ex-Muslim whose asylum claim has been rejected on a number of occasions. Fasahat's spouse was forcibly divorced from him because his religious in-laws with links to an Islamist group there believed him to be an apostate. When she joined him in the UK and they had a second child despite the divorce, her family threatened to kill them for adultery and murder their child "born out of wedlock." According to the Home Office, though, "it is believed that the authorities in Pakistan are able to provide [him] with effective protection" and that he can relocate to another city in Pakistan other than Karachi. According to the refusal letter, the Home Office states: "You are an educated male of working age and are able to speak Urdu and English, one of the official languages of Pakistan. You have already demonstrated considerable personal fortitude in relocating to the UK and attempting to establish a life here and you have offered no explanation why you could not demonstrate the same resolve to reestablish your life in Pakistan." Fasahat stopped believing in Islam early on but realised he was an atheist here in the UK after reading Dawkins' book and making contact with the CEMB. Fasahat has been one of CEMB's main activists and organisers since 2016, however, the Home Office says "it is not accepted that [he] is an atheist."
Letter from Fasahat's 12-year-old daughter

My name is Hurmat Fatima and I am proudly standing here to support my family, my belief, my atheism and i am fighting for my rights. I have done continuous 8 years of education in this country so how do you expect me to go back to Pakistan and learn the compulsory local language (urdu, hindustani and more)? How do u expect me to go back to pakistan and learn Islam when i am a free-thinker and an atheist? How do you expect me to go there and be proud of my atheism when you can be sentenced to death for not believing in islam?

Home office know the terrible conditions that my family and i live in and yet they still choose to ignore us. They know that my daddy has mental issues and it can be risky for him to deal with lots of stress and depression. As a daughter, i feel extremely upset for him because i don't want to lose my daddy. My parents try day and night to provide me and my sister the best life and the best environment. Because of you, we all suffer. They are the ones that taught me that all human beings are kind and generous and that you should never judge anyone but clearly home office is showing the complete opposite. I am thankful to my parents because they encouraged me to develop my critical thinking and i am really proud of being an atheist.

We have done everything that home office asked us to do, they have all the evidence all the proof what more do they want? We have respectfully and patiently waited for their response and they choose to refuse us. Do they realise that going back to pakistan is extremely risky, it isn't even a joke, it is a matter of death and we can even be prosecuted just because of our belief? Do they realise that Islam considers atheism as a threat? Do you realise that if we go back to pakistan we have to constantly hide from everyone? They can at least have sympathy for us.

I have written several letters to home office through my account taking my time and my effort in it and they choose to ignore it. Just because i am a child that doesn't mean that i can't fight and that i can't say my opinions or fight for my rights.

Just because home office are high standard people that doesn't mean that they forget their respect. You should treat everyone equally and respectfully.

I am sorry but i have no words to define home office but disrespectful.
INTERNATIONAL #REFUGEETOO
Basma is a 24-year-old Yemeni ex-Muslim woman who fled to Turkey. In Yemen, she was not able to live freely and decide what to do with her life. A woman there is a slave to her family and community. Because of her outspokenness about the situation of women and her criticism of Islam, she was called an "infidel" by professors at her university where she was studying mass communications and by her own father who threatened to turn her in to the authorities. Basma feared she would be killed by Islamist groups or sentenced to death as others have been so she fled before finishing her degree. Moreover, as a black woman from a persecuted group in Yemen that are openly called "Akhdam" or servants, she faced horrendous racism. In Turkey, where she hoped to reach safety, life has been hell. She was jailed for 4 months in a deportation centre and attempts were made to deport her a number of times, which she has resisted.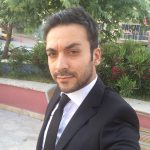 Arsalan Nejati is a 32-year-old Iranian who has been persecuted for his political views and social activities as an ex-Muslim, an independent author, blogger, and a member of the atheist and humanist society in Iran.  In 2014, after he published his story, he was arrested and tortured by Iranian security. After his conditional and temporary release, the threats continued. He was forced to flee to Turkey. He applied for refugee status to UNHCR on 5 May 2015. He has been sent to a satellite city without the right to work and no financial support from UNHCR. After two and a half years, he was rejected by the UNHCR because whilst they say he had established that he was an atheist, "there is not a reasonable possibility that [he] will suffer serious harm if [he] return(s) there due to [his] faith as an atheist." The UNHCR did not accept his appeal and informed him that his case has been transferred to Turkish Immigration Office.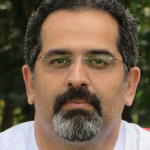 Iman Soleymani Amiri is a lawyer, a writer and critic of Islam and the Islamic Republic of Iran. Due to various activities on social media, he was identified by security agents and forced to flee the country before his arrest. He is director and author of Islamic Criticism Channel with more than sixty thousand subscribers. His audio and video content is available to the general public on various channels and networks. He is a weekly expert on a weekly program called "Islam, a Reasonable Need to Know". He applied to UNHCR in Turkey for refugee status a year and a half ago. He has received no response from the UNHCR. Recently, his case has been forwarded to Turkish Immigration Office.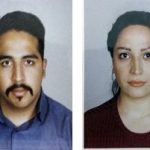 Amir and Mina Kalateh are Iranian ex-Muslim siblings. Amir became an atheist at 16 and persuaded his mother and sister to become atheists too. They took to social media, became admin of Atheist Iranian Community with nearly 12,000 followers. One day, they found that one of their meeting places had been exposed and the security were looking for them. Amir fled first and when Mina and Amir were summoned to court, Mina and her mother Mehri fled the country to Turkey. They arrived in 2016 and have still not been interviewed by UNHCR.
On Monday 21 January 2019, Council of Ex-Muslims of Britain organised a rally at Richmond Terrace SW1A 2NJ across Downing Street in London to demand asylum and protection for ex-Muslims, atheists, women and LGBT fleeing Sharia and/or honour-related violence.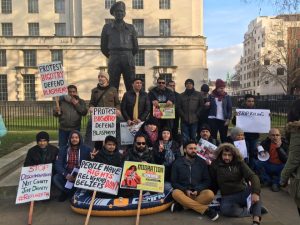 #RefugeeToo highlighted asylum or refugee cases as well as exposed the absurd reasons given for refusals by governments and the UNHCR.
#RefugeeToo #IWant2BFree #SeekingAsylumMyRight #SaveRahaf #SaveExMuslims #SaveWomen #SaveLGBT #SaveAtheists #HandsOffExMuslims #HandsOffAtheists #HandsOffWomen #HandsOffLGBT #AtheismNotACrime #ApostasyNotACrime #BeingWomanNotACrime #BeingLGBTNotACrime #StopDeportations #StopDetentions
For more information on the #RefugeeToo campaign, contact
Maryam Namazie
Council of Ex-Muslims of Britain
www.ex-muslim.org.uk
hello@ex-muslim.org.uk