Egyptian Atheist and Youtube Vlogger Sherif Gaber was arrested when trying to leave Egypt on Wednesday 2nd May. He sent a message to friends telling them he was stopped and taken to an interrogation room at Cairo airport and his passport confiscated. His last message on Wednesday 2nd May at 11:08 am Cairo time said:
"I am suppose to be traveling to Malaysia at 12:05 Cairo Time, an hour from now. The police took me and made me wait in this room for 2 hours and I'm still waiting> they took my belongings and my passport. If I don't update you in one hour know that I was arrested."
On 5 May, Lawyer Gamal Eid who runs the Arabic Network for Human Rights Information (ANHRI) said that the blogger is currently being held in custody pending questioning by the prosecution, without specifying the date of his arrest or the reason for his arrest.
On 7 May, there was a posting supposedly by Gaber saying he had been released, however, many are questioning whether he had made the post himself and were concerned it was a ploy by the Egyptian government to end attention on his case. Until verification that he is free and safe, we will continue to campaign on his behalf.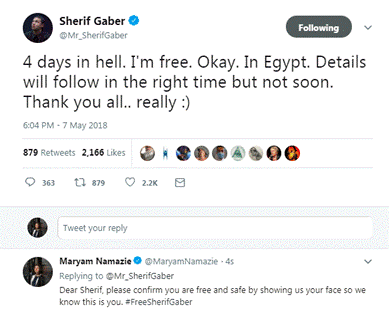 Gaber is a long time activist who has been harassed and imprisoned for defending the LGBT community, promoting science and atheism, and "insulting Islam". There is currently a pending blasphemy case against him. Here is his Tweet end March of this year about it: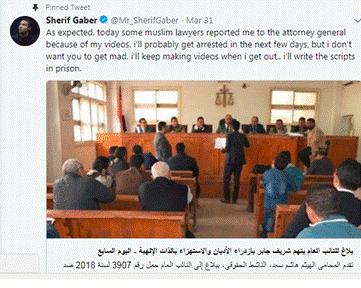 To support Gaber, please sign the petition calling for his freedom.
We demand Gaber's release. Atheism, Blasphemy, Apostasy are not crimes. #FreeSherifGaber
#AtheismNotACrime
#BlasphemyNotACrime
#ApostasyNotACrime
#بى_خدايى_جرم_نيست
#توهين_به_مقدسات_جرم_نيست
#ارتداد_جرم_نيست
#الإلحاد_لیس_بجریمة
#إزدراء_الأدیان_لیس_بجریمة
#الردة_لیست_بجریمة
#الحاد_جرم_نہیں
#توہین_رسالت_جرم_نہیں
#کفر_جرم_نہیں
#নাস্তিকতা_কোন_অপরাধ_নয়
#ধর্মেরসমালোচনা_কোন_অপরাধ_নয়
#ধর্মত্যাগ_কোন_অপরাধ_নয়