UPDATE:
Good news! Karrar has been released from detention. Thanks to everyone who advocated on his behalf. Here is a message from Karrar himself: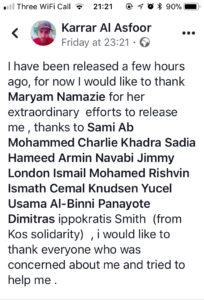 *****
Karrar Al Asfoor (Karrar Hamza, number 550) is an atheist from Najaf, Iraq who has been  active with Arab Atheists and the Forum for Humanitarian Dialogue , a Facebook discussion group of 44,000 members that promotes the right to freedom of belief and expression in the Middle East and North Africa.
Council of Ex-Muslims of Britain and other ex-Muslim organisations have worked with Karrar for several years, including around Facebook's censorship of Arab atheist pages.
Karrar was an invited speaker to the July 2017 International Conference on Freedom of Conscience and Expression in London, the largest gathering of ex-Muslims in history, but his visa was denied.
He was forced to flee Iraq soon after due to threats to his life. He is currently being detained in abysmal conditions at Hotspot, Kos Island, Greece where he has applied for asylum.
Karrar is a known ex-Muslim activist who has a well-founded fear of persecution. In Iraq, atheists face threats and intimidation. Islamic parties have increased rhetoric against atheists.
Ex-Muslim organisations and activists call on the Greek government to release Karrar and grant him protection and asylum immediately.
We ask also that the public contact the authorities and advocate on his behalf.
You may write to:
Greek Ministry of Migration Policy: asylo@asylo.gov.gr
Greek Asylum Unit Kos: aka.ko@asylo.gov.gr
UNHCR, Greece: great@unhcr.org
Greek Ministry of Foreign affairs: @GreeceMFA and Contact form
Amnesty International Greece: athens@amnesty.org.gr
Greek Council for Refugees: papamina@gcr.gr or driva@gcr.gr
Please also contact Greek embassies in your country of residence.