In a very brave step, Mohamed Salih, a young Sudanese, filed an official request for all mention of Islam to be removed from his documents, including his national ID. As a result, he was charged with apostasy, per Article 126 of the Sudanese Criminal Code, which states: "Whoever propagates the renunciation of Islam or publicly renounces it by explicit words or an act of definitive indication is said to commit the offence of Riddah (apostasy)."
Salih was, therefore, arrested on 8 May 2017 and held in Alqadisiyah police station, Ombada, a suburb of Omdurman. Since Aristide Nononsi, the Independent Expert on the human rights situation in Sudan, was on a visit, the Sudanese government released Salih after declaring him mentally unfit.
Salih is currently in hiding given that he is at serious risk of mob violence. Though his request was declined by the court, he insists on continuing his case. He is also calling for his mental capacity to be properly assessed.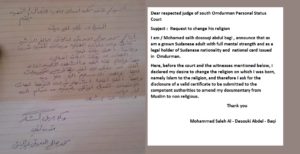 The grounds for his legal defence is the contradiction between Article 126 of the criminal code and Article 38 of the 2005 transitional constitution, which allows for the freedom of choice of religion and belief: "Every person shall have the right to the freedom of religious creed and worship, and to declare his/her religion or creed and manifest the same, by way of worship, education, practice or performance of rites or ceremonies, subject to requirements of law and public order; no person shall be coerced to adopt such faith, that he/she does not believe in, nor to practice rites or services to which he/she does not voluntarily consent."
Whilst Salih's Facebook page was initially removed, it is now back online raising once again concerns about Facebook's compliance with governments aiming to censor and silence those deemed apostates.
The Council of Ex-Muslims calls on the Sudanese government to comply with Mr Salih's request to remove Islam from his documents and protect his safety and security. We also call on the public to stand in firm support of Salih's brave move in defence of freedom of conscience, which includes the right to leave Islam and atheism.
A petition support Mr Salih can be found here.
For more information:
Maryam Namazie and Sadia Hameed
Council of Ex-Muslims of Britain
BM Box 1919, London WC1N 3XX, UK
tel: +44 (0) 7719166731
email: exmuslimcouncil@gmail.com
web: http://ex-muslim.org.uk/