Passion for Freedom Art Festival, London, UK
2011sat29oct6:00 pmsat9:00 pmPassion for Freedom Art Festival, London, UK6:00 pm - 9:00 pm address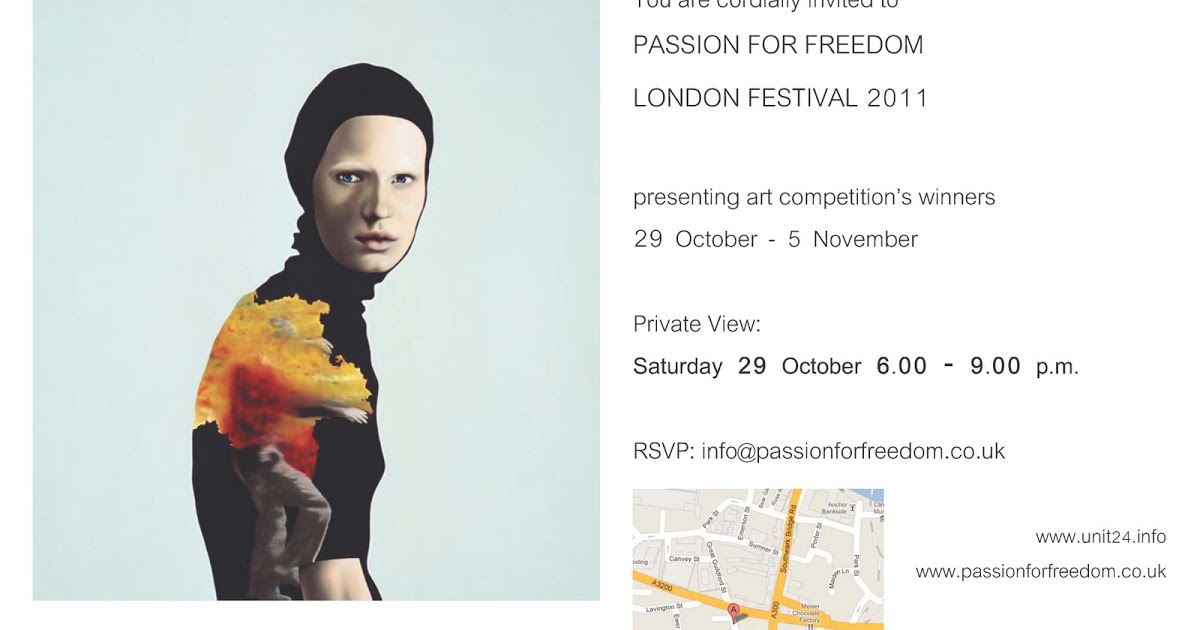 Event Details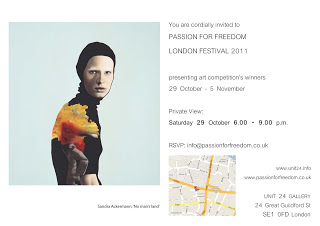 One Law for All presents its 2011 Passion for Freedom Art Festival showcasing a shortlist of international artists discussing religion, equality and one secular law for all through painting, drawing, sculpture, film and installation.
Exhibited artists are Sandra Ackermann, Karin Roy Andersson, Eskild Beck, Milena Buljan, Victoria Burgher, Edna Cantoral Acosta, Magdalena Czubak Vlasak, Fiona Dent, ARINA, Heather MCDonald, Roland Okon, Despina Papadopoulou, Polina Pakhomova, Mario Raoli, Steve Rosenthal, Flora Robertson, Axelle Russo, Govinda Sah, Karine Schneider, Fianne Stanford, Paula Stevens-Hoare, Zoe Sua Kay, Valeriya Vygodnaya, Ewa Zasada, and Artur Zarczynski.
Competition judges include Polly Toynbee (Writer and Columnist), Francisco Laranjo (Artist and Head of School of Arts at Porto University) and Deeyah (Singer and Composer).
Private View: Saturday 29 October 2011, 18.00 – 21.00 hours
Gallery: UNIT24 Gallery, 24 Great Guildford Street, London SE1 0FD (Transport Underground stations: Southwark)
Exhibition: 29 October – 5 November 2011
Opening Hours: Monday – Wednesday 8.00 – 18.00 hours; Thursday – Friday 8.00 – 18.30 hours
To RSVP for the private viewing, please email your name and mobile number to onelawforall@gmail.com.
For more information, visit Passion for Freedom website.
Passion for Freedom Art Competition, Second Edition, 2010
Passion for Freedom Art Competition, First Edition, 2009
NOTES
To donate to the crucial work of One Law for All, please either send a cheque made payable to One Law for All to BM Box 2387, London WC1N 3XX, UK or pay via Paypal.
We need regular support that we can rely on and are asking for supporters to commit to giving at least £5-10 a month via direct debit. You can find out more about how to join the 100 Club here.
The One Law for All Campaign was launched on 10 December 2008, International Human Rights Day, to call on the UK Government to recognise that Sharia and religious courts are arbitrary and discriminatory against women and children in particular and that citizenship and human rights are non-negotiable. To join the campaign, sign our petition here.
For further information contact:
Maryam Namazie and Anne Marie Waters
Spokespersons
One Law for All
BM Box 2387
London WC1N 3XX, UK
Tel: +44 (0) 7719166731
onelawforall@gmail.com
www.onelawforall.org.uk
more
Time

(Saturday) 6:00 pm - 9:00 pm