20jun(jun 20)3:00 pm(jun 20)3:00 pmJoin us to celebrate the 8th anniversary of the CEMB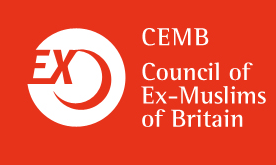 Event Details

Join us for appetisers, drinks, music, speeches and laughs to celebrate the CEMB's 8th anniversary.

Saturday 20 June 2015, 1500-1800 Hours near London Kings Cross

Speakers and acts include:
Philosopher A C Grayling
Singer Alya Marquardt
Secular activist Aliyah Saleem
Ex-Muslims North Founder Behzad Sandbad
London Black Atheists Clive Aruede and Lola Tinubu
Bread and Roses TV Host Fariborz Pooya
Centre for Secular Space Director Gita Sahgal
Council of Ex-Muslims of Morocco Founder Imad Iddine Habib
Comedian Kate Smurthwaite
Women's Rights Activist Magdulien Abaida
Maajid Nawaz, Founder of Quilliam Foundation
CEMB Spokesperson Maryam Namazie
Master Magician Neil Edwards
Southall Black Sisters Director Pragna Patel
Women's Rights Activist Rumana Hashem
National Secular Society President Terry Sanderson

Tickets: £18 (waged); £10 (unwaged)

To register, please email your name and mobile number to [email protected]

You can purchase your ticket(s) via Paypal or by sending a cheque made payable to 'CEMB' to: BM Box 1919, London WC1N 3XX.

Space is limited so buy your tickets today.

No tickets will be sold at the door.
Time

(Saturday) 3:00 pm - 8:00 pm
Location

Kings Cross

Kings Cross