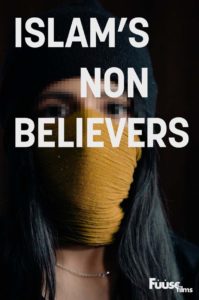 Press Release: ITV Exposure
"I remember saying to my mum, 'I don't think I believe in God any more,' And her saying, 'You can't tell anybody else because they'll kill you, we are obliged to kill ex-Muslims,' and that it would put me at extreme risk if anybody else was to find out, so that conversation ended there." – Sadia, a former Muslim
This new documentary in the Exposure current affairs strand investigates the lives of ex-Muslims, who face extreme discrimination, ostracism, psychological abuse and violence as a result of leaving Islam.
Featuring contributions from British and Bangladeshi ex-Muslims, Islam's Non-Believers paints a vivid picture of the dangers facing those who renounce their faith. Some are at risk of suicide, or self-harm, or have been physically and psychologically abused by their closest family members. Most are terrified of being shunned by their own family and friends if their true beliefs become known.
Made by award-winning film-maker Deeyah Khan, who also directed the acclaimed Jihad – A British Story and Banaz: An Honour Killing for ITV, the programme finds that many young British ex-Muslims live in the shadows hiding their true beliefs, running huge risks if they 'come out' as atheists within their religious communities. Some of those who speak in the programme have asked to remain anonymous for fear of reprisals.
The film follows the Council of Ex-Muslims of Britain, a volunteer support group led by Iranian-born activist Maryam Namazie which supports ex-Muslims, often referred to as apostates or unbelievers, both in the UK and abroad. Maryam says: "They see us as people who are troublemakers, deviants, apostates and blasphemers… There is nothing, nothing more intolerant than religion."
One ex-Muslim, Sadia, talks about her brother Razaa, who killed himself. She says it was partly because he felt sidelined and misunderstood by his community all his life, one reason being his atheism. She says: "I feel like when you leave Islam, your intelligence gets attacked. They make you feel like you're stupid for making such a decision, which he felt like his entire life. Leaving Islam, becoming an ex-Muslim, all of a sudden you feel like you're dirty, and you become unimportant within the community."
Dr Omer El-Hamdoon from the Muslim Association of Britain says people can leave the religion of their own free will and should not be punished. But he says it is not surprising that those who do leave are shunned. He says: "The Muslim community is a community based on religion, so if a person chooses to stop being a Muslim they can't really expect that the Muslim community is still going to say to them, 'You are still part of our community.'"
The programme also reports on how the danger for ex-Muslims who live in Islamic countries can be even higher. Apostasy carries the death penalty in a dozen Islamic countries. Atheists face a double threat – persecution by their own government, and the risk of murder at the hands of Islamist gangs.
Bonya Ahmed, whose writer and blogger husband Avijit Roy was brutally killed in the streets of Bangladesh, speaks about the attack and how she is trying to rebuild her life in America. Avijit was murdered because he spoke out against religious fundamentalism. They are just two of many atheist bloggers and intellectuals who have been attacked by Islamist gangs wielding machetes in Bangladesh.
Also featured is an international network of atheist writers, bloggers, academics, intellectuals and artists who form a resistance movement against what they see as the growing oppression, violence and political power of Islamic fundamentalists. Many live in Muslim countries where leaving Islam carries the risk of prosecution and discrimination.
Arif Rahman, a Bangladeshi blogger now in hiding in London, says he sees bloggers as a resistance movement against religious extremism. He says: "When we started writing in 2006, we did not think the people would be killed over this. And in 2013 our first colleague Ahmed Rajab Haidar, he was an architect, was hacked to death in front of his house. That was the first time we realised this was real this could potentially happen."
The programme finds that a number of senior British Bangladeshi imams, mainstream figures in society, have called for the execution of atheist bloggers in Bangladesh, claiming they have insulted Islam, and making a number of anti-atheist statements.
Imad Habib, from Maryam's organisation, is filmed on his way to help two girls escape from their Muslim family while they are on holiday in London. He says he had undertaken a similar journey – after he came out publicly as an ex-Muslim, he had to leave Morocco to escape prosecution by the authorities and attacks by religious extremists. He says: "First of all you suffer, you suffer, there is no one to help you, if you speak out at any moment you are going to be at risk, you speak out you feel afraid that anyone might find out who you are really, it is a really risky journey that those people take."
This documentary sees how ex-Muslims continue to struggle to be heard and to express themselves, with radical Islamist protesters often trying to shut down their talks and events. Deeyah identifies these as a part of a growing international movement which is confronting radical Islam both in the UK and the Islamic world. Maryam says they remain defiant: "The internet and social media is doing to Islam what the printing press did in the past to Christianity, because it's one way in which masses of people can connect with each other, can hear ideas that are taboo and forbidden."
This is a Fuuse Films production for ITV.