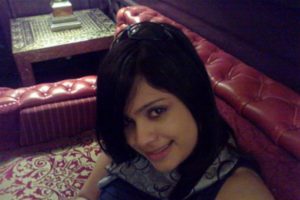 "Esha" a 24 year old woman has been cut off from the world in her prime and is languishing in a Pakistani prison for the last three years on false charges of blasphemy brought against her by her best friend after they had an argument. She stands accused of having torn pages from the Qur'an and having slept on them. Although there have been several hearings, her trial  is still pending  for a complex variety of reasons – one of them being that there have been five different judges, each fearing for his life.
She has no family to take an interest in her except for a dedicated young man, "Mo", whom she met on a visit to court and who, on hearing her story and seeing her isolation, has been trying to support her. Blasphemy is a serious offence in a deeply religious country like Pakistan and punishable by death. Blasphemy laws have been used to persecute minorities like the Christians or to settle personal scores. Several prominent people have been killed  for supporting those accused of blasphemy. Only recently a Christian couple were burnt alive for allegedly desecrating the Qur'an.
"Mo" has gone into hiding after he  received death threats. He is unable to work now and therefore, unable to raise the kind of fees that are charged by lawyers. For this kind of case, the fees are extremely high because of the danger posed to anyone associated with it. This is why we cannot use their real names.
She is being sexually harassed by the superintendent of the prison. As she has rejected his advances, he has withdrawn all basic privileges such as medicines, visitors, even a  mattress to sleep on. She is locked up 24/7 in a cell that is not heated in the winter and not cooled in the summer when temperatures can reach a baking 45c! She has attempted suicide twice and her poor mental health is a cause of real worry. She has stomach ulcers, skin allergies and kidney problems as well.
"Esha" and "Mo" are completely trapped.  'Esha' says 'I have lost all faith in society. I have been cut off from life, from the world, from education. I have lost the will to live.'
Although it is vital to Esha's mental health that she leaves  prison, if her bail hearing is successful, neither of them have any money even for rent or food. Mo's own family feel he's wasting his life and are threatening to cut him off.  He says, 'I was 27 when I met Esha. I have spent all my life savings on her. My life is in danger from extremists and I have lost family, friends and peace of mind. Why am I doing this?'
This money will go towards Esha's legal fees and associated expenses for a lawyer who is highly recommended. "Mo" is desperate to get the legal case on the road before "Esha's" next attempt on her life.
Please donate as generously as you can.  The money will be used to pay legal fees and welfare costs.
Thank you!