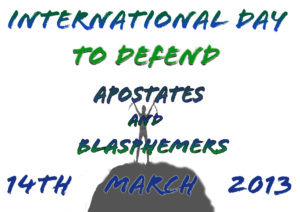 UPDATE: SEE ACTIONS TAKEN TO MARK THIS DAY HERE.
Countless individuals accused of apostasy and blasphemy face threats, imprisonment, and execution. Blasphemy laws in over 30 countries and apostasy laws in over 20 aim primarily to restrict thought, expression and the rights of Muslims, ex-Muslims and non-Muslims alike.
On 14 March 2013, we, the undersigned, call for an international day of action to defend apostates and blasphemers worldwide by highlighting ten cases though there are countless more.
Alex Aan, Indonesia: 30 year old atheist, in prison for blasphemy for saying there is no god on Facebook. Sign Petition Here.
Abdul Aziz Mohammed Al-Baz (also known as Ben Baz), Kuwait: Blogger and atheist charged with blasphemy.  Support him here.
Turki Al Hamad, Saudi Arabia: Novelist in prison for Tweets critical of Islam and Islamism. Write Letter Here!
Raif Badawi, Saudi Arabia: Charged with apostasy for setting up a website that "harms the public order and violates Islamic values". Sign Petition.
Asia Bibi, Pakistan: 45 year old Christian mother of five, sentenced to death for blasphemy for 'insulting Mohammad'. Join Save Asia Bibi Facebook Page Here.
Hamza Kashgari, Saudi Arabia: 23 year old Muslim charged with blasphemy for Tweeting about Mohammad and women's status. Sign Petition Here and Here.
Saeed Malekpour, Iran: Sentenced to death for 'insulting and desecrating Islam'. Join Free Saeed Malekpour Facebook Page Here.
Shahin Najafi, Iran:  A death fatwa for apostasy has been issued by Iranian clerics against Shahin Najafi living in Germany for a song critical of an imam.  Support Shahin Here.
Ahmad Rajib, Bangladesh: The well-known 35 year old atheist blogger had his head hacked apart with a machete one day after attending anti-Islamist protests in Bangladesh.
Alber Saber, Egypt: The atheist blogger has been sentenced to three years in prison for blasphemy. Support Him Here.
We urge the public to mark this day by taking action in support of the many women, men and even children languishing in prison or on death row.
We must never forget them.
Take action on 14 March to highlight this intolerable situation, including by Tweeting, signing a petition, writing a letter of protest, drawing a picture, taking a photo, making a video – anything at all to defend free expression and thought and the many whose lives are at stake.
Signed
Aakar Mathur, Electronics Engineer, India, Proud Atheist
Adlin Binti Abd Jalil (Makcik Hajjah Sitt Al-Wuzara), Jamaah Al-Murtadin wal Musyrikin (Murtads in Malaysia and Singapore), Malaysian based in Sweden
Afsaneh Ramez
Alan Cooper
Alan Palmer, Trustee, British Humanist Association
Alastair Lichten
Alexandra Cook, The Brights
Alexandra Schoen, Atheist, Germany
Alison Randall, aka the Reverend Hellbound Alleee, Church of the SubGenius, NCW freethinkers, Washington State
Allan Harmer
Amir Tavakoli, Stockholm
Ana Lucic, Student and Atheist, Canada
Andrew Cummins
Andrew Edmondson
Andrew Mortlock, Staffordshire, England
Andrew Rowe
Andrew Zdenkowski, Australia
Andy Austin
Anita Zawiślak, member of Polish Rationalist Association, Poland
Anna Bergström, Trustee, Swedish Humanist Association
Anne Baker
Annie Sugier, President, Ligue du Droit International des Femmes, France
Anthony B Pinn, Academic, USA
Anwar Bilal, Indian-American ExMuslim
Asad Abbas, UK
Ayse Duygu, 20, Free Minds Münster
Babak Yazdi, Head of Khavaran, Canada
Bala Naidoo
Barry Walker
Behzad Varpushty, Atheist, Secularist, Humanist
Ben Holgate
Ben Six, Student, UK
Bill Jennings
Bjarte Foshaug
Bjørn Johannessen
Brad Garrison
Brendan Maher, Atheist/Secularist Humanist, Ireland
Brian & Helena Wilder
Brian Conklin Jr, Student, USA
Brian Creamer
Brian D. Engler, USA
Brian Leslie
Brian Perkins
Brian Trenbeath
Brian Vroman, Community College philosophy instructor, Minnesota, USA
Bry Outlaw, Atheist
Campbell Rule, Regsitered Nurse
Carlos A. Diaz, President, Atheist Alliance International, Argentina
Carmen Finnigan, member of CFI Saskatchewan
Caroline Fourest, Writer, France
Cathy Oliver
Cathy Oliver, President, Ontario Humanist Society, ON, Canada
Center for Inquiry
Central London Humanists
Charya Hilton, Atheist feminist, UK
Chris Davis
Chris Fiorentino, Student and Atheist, Canada
Chris Mirana
Christian Grass
Christopher Chadwick
Christopher Roche, Bath Atheists, Humanists and Secularists, UK
Colin Jamieson, student, University of St Andrews
Contessa de Metoncula
Cort Greene
Council of Ex-Muslims of Britain
Craig Morgan, Atheist, California, USA
Craig Sanderson
Craig Vikernes, UK
D. R. Khashaba
Dan Boneh, Ph.D – author of "Lo Haya velo Nivra" – the first atheist manifesto in Hebrew, Tel Aviv, Israel
Daniel Abineri
Daniel Bradman
Darell Irving, Australia
Darina al Joundi, Writer and Actress, France
Darren Johnson, London Assembly Member, UK
Dave Gilbert
Dave Watts
David Brindley, Atheist and Humanist, Oxford, New Zealand
David Dubois, Teacher, France
David Gamble – Skeptic and Atheist
David Gray, Australia
David Nicholls, President, Atheist Foundation of Australia, Australia
David Pollock, Trustee, British Humanist Association, UK
David Taylor
Deborah Pimental
Derek Walsh, Regional Officer, Atheist Ireland
Dinesh Dalal
Dirk Verhofstadt, Author, The Third Feministic Wave'
Djemila Benhabib, auteure, Prix international de la laïcité 2012
Dominic Wirdnam, Bristol Secular Society
Don Whitty, ON, Canada
Dr Ant Allan, Atheist, rationalist & humanist; UK
Dr. Shaker B. Srinivasan, USA
Dylan Gray, Athiest – Australia
Edward Sadkowski
Edward Toque-Tanniou
Elaine Ansell
Elham Manea, Writer, Switzerland
Elif Söz, 33, Free Minds Münster
Equal Rights Now – Organisation against Women's Discrimination in Iran
Eric Hanson, Atheist Chicago, Illinois USA
Ertan Zeki
Esam Shoukry, Organization for Secularism and Civil Right in Iraq, Canada
Eve Beresford, Anthropologist
F. E. Long, RN, United States of America
Fakher Haddaoui, Tunisia
Faraz Ahmad
Fariborz Pooya, Iran Secular Society, UK
Felix Strüning, Stresemann Foundation, Germany
Fouad Boussetta, Montreal, Canada
Franco Pace
Frank Bath
Fredrik Sandberg
Gaylene Wetzel, atheist – former Christian, Centre For Inquiry, Saskatoon, SK., Canada
Gemma Gray
Gene Spencer, Freelance writer/Journalist, Nottingham/London, UK
Gérard Ponthieu
Gita Sahgal, Centre for Secular Space, UK
Glen Carrigan
Graham Piddington
Greg Burke
Greg Lammers
Greg Sharpe, Atheist, UK
Guy Otten, Trustee of the British Humanist Association
Hanne Stinson, UK
Harald Kavli, Atheist
Harold Walter Kroto, 1996 Nobel Prize winner in Chemistry, USA
Harris Wain
Helen Palmer, Chair of Central London Humanists
Henrik Sundt
Houzan Mahmoud, International Representative, Organisation of Women's Freedom in Iraq, UK
Ian Kirk, Australia
Ian MacKay
Ibn Warraq, Writer, USA
Ileen McDuring, Writer and Atheist, United States.
Imad Iddine Habib, an outspoken Moroccan Atheist, Co Founder of "Masayminch" Movement (We Won't Fast) against the article 222 of the Moroccan penal code which consider eating in public during Ramadan as a crime
Jaakko Wallenius, Lohja, Finland
Jacek Tabisz, President, Polish Rationalist Society, Poland
Jacqueline Fleischer
James Lindsay
Jan Wojcik
Jane Bursnall
Jean Davies, Ex-Christian
Jeff Parkes, Citizen and atheist, Australia
Jim Craig-Gray
Joe Kelly
John A Wagner
John and Alison White
John Griffin
John Liesch, community-based researcher, Simon Fraser University
John Morton
John Tyrrell
Jordan Opst, Atheist and secular activist
Jordan Stephenson, Student, UK
Joseph Collins
Joseph Gelovani
Josh Altom, American, currently studying in the UK
Josh Kutchinsky, Central London Humanists
Joy SD Charles
Justin Doolittle
Kaja Bryx, President, Wroclaw Branch of the Polish Rationalist Association.
Kamal Fahmi
Karen Lynn, Atheist
Kay Kaufmann
Keith Cardwell
Ken and Elaine Moon
Kendra Getty, atheist, Centre for Inquiry Saskatoon, Canada
Kerry Barnsley
Kim Grais, Atheist, UK
Krista Lomu, United Kingdom
Labi Siffre, Atheist, Secularist, Songwriter, Musician, Poet
Lâra Yudum, 26, Free Minds Münster
Larry Lepthien Former Christian, Atheist
Laurence Villard
Lawrence Krauss, Theoretical Physicist
Lea Tapp
Leonie Fulton, Teacher and Atheist, Australia
Les Mallett
Liam Perry, Atheist and Humanist
Ligue du Droit International des Femmes
Lila Ghobady, Writer & Documentary maker, Canada
Live Lepperød, Norway
LJ Briar, Toronto, Ontario, Canada
Lloyd Newson, Producer, DV8 Physical Theatre, UK
Louis Price
Louise Mailloux, Writer, Centre for Inquiry, Montreal, Canada
Lucie Mayer, Opera singer, teacher and social activist, Montréal, Québec
Mahendra Mathur
Malcolm Bradstock
Margaret Kroto, UK
Marieme Helie Lucas, Secularism Is A Women's Issue, France
Marjan Teal, Atheist, Manchester UK
Mark Mennie, Humanist
Mark Panzarino
Mark Senior
Markian Hlynka
Martin S Pribble
Martine Buffin
Marty McCorkle, Fine artist and painter
Marty Woods
Mary Grove, Central London Humanists (committee member)
Maryam Namazie, Spokesperson, Council of Ex-Muslims of Britain, One Law for All and Equal Rights Now, UK
Matt Marshall, Atheist, secular humanist in Cleveland, OH, USA
Matthew Alexander
Matthew Schickele, composer, USA
Matthew Willcox
Mehrzad Wolf
Michael Araujo
Michael Bennett, Humanist, London, UK
Michael De Dora, U.N. Representative, Center for Inquiry, USA
Michael Greenwood
Michael Greenwood, anti-theist, Australia
Michael J. Forster
Michael McGrath
Michael Nugent, Chair, Atheist Ireland, Ireland
Mikko Ulander, Finland
Mina Ahadi, International Committee against Stoning and Execution, Germany
Monique Blaize, cartoonist, comic artist
Muhammad Habib, Atheist, Bangladesh
Nadia Duvall, UK
Nahla Mahmoud, researcher and activist, Sudan/UK,
Najat Kessler
Nancy Shuford, Homemaker, United States
Nathan Hevenstone
National Secular Society
Nazanin Afshin-Jam, President and co founder, Stop Child Executions, Canada
Neale Adams
Nicholas Jones
Nicola Duffy, New Zealand
Nima Mashouri
Nina Sankari, President, European Feminist Initiative, Poland
Norense Clive Aruede, London Black Atheists
Oliver Bennett
One Law for All, UK
Ophelia Benson, Blogger
Organization for Secularism and Civil Right in Iraq
P Madhusudanan
Pablo Pastore, Biology student, Buenos Aires, Argentina
Pallab Kalita, Student
Patricia Rogers
Patrick Rentmeesters – coôrdinator Humanistisch Vrijzinnige Vereniging gewest Brussel -Belgium
Patrick Vuiton
Patrik Lindenfors, Stockholm University
Patty Debonitas, Iran Solidarity
Paul Ivanoff
Paul Sellick, Humanist, Secularist, London, UK
Pavel Mahmud, Ex-Muslim from Bangladesh. Currently, grad student in NJ, USA
Peter & Annette Cotterill (former CFO & CEO Learning Through Action Trust)
Peter Bowley
Peter Evans
Peter Tatchell, Human Rights Campaigner, UK
Philip Schröder, protestant Christian
Philip Wagstaff`
Philippe Bérard
Pierre A Renaud, Atheist Freethinkers
Pippa Mitchell, Chair of Imperial College London Atheists, Secularists and Humanists
PJ Floyd
Prue Jinka
Prue Jinka
Rafiq Mahmood, Indonesia
Raheel Khan, Centre for Inquiry Toronto
Rainer Ebert, Rice University & Bangladesh Liberal Forum
Ratul Das, Lawyer, India
Ray Norman
Rebecca Poata-Smith, New Zealand.
Rebecca Watson
René Hack, Amsterdam, Netherlands
Reshad Sergeant
Rev. Dr. John Hunt, ordained atheist minister
Richard Dawkins, Scientist and Atheist, UK
Rob Mallows, Central London Humanists
Robert Ferris, Atheist, Dublin, Ireland
Roger Lowe, Atheist, Australia
Roger Winchester, Atheist and secularist, UK
Ronald Lindsay, President, Centre For Inquiry, USA
Rose-Anna Bleasdale
Samson Salamat, Pakistan
Sarah Brown
Sarah Hague
Secularism is a Women's Issue
Selin Yesil, 24, Free Minds Münster
Setareh Sharifzade Abdi, Atheist asylum seeker from Iran, Sweden
Shahla Daneshfar, Women's rights campaigner, Co-ordinator of Free Them Now! Campaign to Free Jailed Workers in Iran, International Labour Solidarity Committee -Iran
Sheila Crosby
Shiva Mahbobi, Women's rights campaigner, spokesperson of Campaign to Free Political Prisoners in Iran
Siba Shakib, Writer/Filmmaker, Germany
Siddhant Shirodkar, Atheist/Secular Humanist
Sikivu Hutchinson, Editor, blackfemlens.org, USA
Simon Arnall, Australian, Humanist Atheist
Simon Gandevia
Soad Baba-Aissa , President, Association pour la mixité, l'égalité et la laïcité en Algérie, France
Sohaila Sharifi, Women's Rights Campaigner, UK
Sonja Eggerickx, President, International Humanist and Ethical Union, Belgium
Stefan Detrez
Stellan Svensson
Stephen Howling
Steve Bowen
Steve Caldwell, atheist — Bossier City, Louisiana
Steve Hossen
Steven Howard, Australia
Steven Rowlinson, Unemployed biologist from Manchester UK
Stuart Theobald, journalist, entrepreneur, atheist
Sture Qvarfordt, Member, Swedish Humanist Association
Sue Cox, Survivors Voice Europe, UK
Sundas Hoorain, Human Rights Lawyer, Pakistan
Tarek Fateh, Writer, Canada
Taslima Nasreen, Writer
Terry Sanderson, President, National Secular Society, UK
The Ontario Humanist Society
The Pink Triangle Trust
The Richard Dawkins Foundation for Reason and Science
Tim Ayres
Timothy Ward
Tom Doherty
Tommi Paalanen, Finland
Ulf Gustafsson, Sweden
Uwe Max Jensen
Victor Franco, Vice President, Atheist Alliance International
Victoria Gugenheim, Atheist bodypainter and fine artist
Vince Quackenbush
Vincent Federico
Yann Ménard, Montreal, Québec, Canada
Z A Akbar
[Please note: You can still add your full name as well as affiliation if any in the comments section below but the above list will not be updated after March 15.]
NOTES:
1. Join the Council of Ex-Muslims of Britain at its upcoming events. On 15 March, there is a Muslimish launch in Chicago; evening drinks with Sudanese atheist Nahla Mahmoud on 22 March in London; 24 March Nowrooz Party in Manchester; and a meet-up for apostate refugees and asylum seekers on 26 March in London. Find out more here.
2. See the CEMB's latest statement against sex segregation at an Islamist-organised event at UCL. The university banned the group IERA from holding future events on its premises. More information is available here.
3. Read Maryam Namazie's most recent speech at Birmingham University's Reason Week on Apostasy and Freedom of Conscience and watch her interview on shouting atheism from every rooftop.
4. See the latest media coverage, including a piece in the Washington Post about Muslimish and Maryam's interview with the Thinking Atheist.
5. To donate to the important work of the Council of Ex-Muslims of Britain, click here.
6. For more information:
Maryam Namazie
Spokesperson
Council of Ex-Muslims of Britain
BM Box 1919, London WC1N 3XX, UK
email: exmuslimcouncil@gmail.com
web: http://ex-muslim.org.uk/
Company limited by guarantee and registered in England and Wales under company number 8059509.